Norway
Related Categories: City Symbols World Flags and Symbols USA State Symbols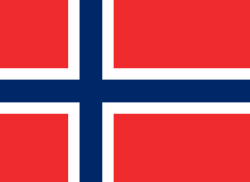 Flag of Norway


Red with a blue cross outlined in white that extends to the edges of the flag; the vertical part of the cross is shifted to the hoist side in the style of the Dannebrog (Danish flag).
Two centuries of Viking raids into Europe tapered off following the adoption of Christianity by King Olav TRYGGVASON in 994. Conversion of the Norwegian kingdom occurred over the next several decades. In 1397, Norway was absorbed into a union with Denmark that lasted more than four centuries. In 1814, Norwegians resisted the cession of their country to Sweden and adopted a new constitution. Sweden then invaded Norway but agreed to let Norway keep its constitution in return for accepting the union under a Swedish king. Rising nationalism throughout the 19th century led to a 1905 referendum granting Norway independence. Although Norway remained neutral in World War I, it suffered heavy losses to its shipping. Norway proclaimed its neutrality at the outset of World War II, but was nonetheless occupied for five years by Nazi Germany (1940-45). In 1949, neutrality was abandoned and Norway became a member of NATO. Discovery of oil and gas in adjacent waters in the late 1960s boosted Norway's economic fortunes. The current focus is on containing spending on the extensive welfare system and planning for the time when petroleum reserves are depleted. In referenda held in 1972 and 1994, Norway rejected joining the EU. - CIA World Factbook.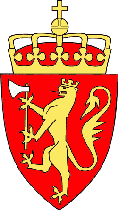 Flag of Norway
The flag of Norway is red with a blue Scandinavian cross outlined in white that extends to the edges of the flag.
www.nationmaster.com/encyclopedia/Flag-of-Norway
Norway - Fotw
Fact Sheet, Flag Pole, Dimensions of the flag, About dimensions in Scandinavian flags.
www.fotw.us/flags/no.html
Norway - wikipedia.org
Since World War II, Norway has changed from being one of the poorest countries in Europe, to one of the wealthiest in the world, with a fully developed welfare system.
en.wikipedia.org/wiki/Norway
Norway - U.S. Department of State
Ethnically, Norwegians are predominantly Germanic, although in the far north there are communities of Sami who came to the area more than 10,000 years ago, probably from central Asia. In recent years, Norway has become home to increasing numbers of immigrants, foreign workers, and asylum-seekers from various parts of the world. Immigrants now total over 300,000; some have obtained Norwegian citizenship.
Although the Evangelical Lutheran Church is the state church, Norway has complete religious freedom. Education is free through the university level and is compulsory from ages 6 to 16. At least 12 months of military service and training are required of every eligible male. Norway's health system includes free hospital care, physician's compensation, cash benefits during illness and pregnancy, and other medical and dental plans. There is a public pension system.
Norway is in the top rank of nations in the number of books printed per capita, even though Norwegian is one of the world's smallest language groups. Norway's most famous writer is the dramatist Henrik Ibsen. Artists Edvard Munch and Christian Krogh were Ibsen's contemporaries. Munch drew part of his inspiration from Europe and in turn exercised a strong influence on later European expressionists. Sculptor Gustav Vigeland has a permanent exhibition in the Vigeland Sculpture Park in Oslo. Musical development in Norway since Edvard Grieg has followed either native folk themes or, more recently, international trends.
www.state.gov/r/pa/ei/bgn/3421.htm