Slovakia
Related Categories: City Symbols World Flags and Symbols USA State Symbols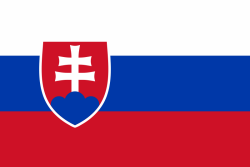 Flag of Slovakia


Three equal horizontal bands of white (top), blue, and red superimposed with the coat of arms of Slovakia (consisting of a red shield bordered in white and bearing a white Cross of Lorraine surmounting three blue hills); the coat of arms is centered vertically and offset slightly to the hoist side.
The dissolution of the Austro-Hungarian Empire at the close of World War I allowed the Slovaks to join the closely related Czechs to form Czechoslovakia. Following the chaos of World War II, Czechoslovakia became a Communist nation within Soviet-ruled Eastern Europe. Soviet influence collapsed in 1989 and Czechoslovakia once more became free. The Slovaks and the Czechs agreed to separate peacefully on 1 January 1993. Slovakia joined both NATO and the EU in the spring of 2004. - CIA World Factbook.
The Slovak National Emblem
Description of the emblem.
www.slovak.com/kriz.html
The Slovak National Flag
Slovakia - Fotw
National Flag, Flag construction sheet, Vertical hanging flag, History of the Slovakian flag, The Czechoslovak split.
www.fotw.us/flags/sk.html
Slovakia - wikipedia.org
The Slavic people arrived in the territory of present day Slovakia between the 5th and 6th century AD during the Migration Period (Migration of Nations).
en.wikipedia.org/wiki/Slovakia
Slovakia - U.S. Department of State
The majority of the 5.4 million inhabitants of the Slovak Republic are Slovak (85.8%). Hungarians are the largest ethnic minority (9.7%) and are concentrated in the southern and eastern regions of Slovakia. Other ethnic groups include Roma, Czechs, Ruthenians, Ukrainians, Germans, and Poles. The Slovak constitution guarantees freedom of religion. The majority of Slovak citizens (69%) practice Roman Catholicism; the second-largest group is Protestants (9%). About 3, 000 Jews remain of the estimated pre-WWII population of 120,000. The official state language is Slovak, and Hungarian is widely spoken in the southern region.
Despite its modern European economy and society, Slovakia has a significant rural element. About 45% of Slovaks live in villages of less than 5,000 people, and 14% in villages of less than 1,000.
www.state.gov/r/pa/ei/bgn/3430.htm